Staff Of Life Cooking Classes
Gourmet Cooking School Students
Basics Of Healthy Cooking, Principles Of Balance and Vegetarian Cooking Techniques.

Discover how easy it is to prepare food that tastes delicious and is good for you, as we focus on the three headings above. You'll find out how to prepare non-dairy dishes, whole grain and pasta dishes, high-protein beans, calcium-rich greens, salads, dressings, and sugar and dairy-free deserts. Learn to use basic cooking techniques such as steaming, baking, sautéing and stir-frying. You'll also practice knife skills and learn time saving steps for meal preparation as well as how to organize your kitchen. We'll carefully guide you through these principles which you will be able to use for a lifetime of delicious cooking and eating. Most classes consists of preparing and tasting a full meal.

If you are ready to make some healthful changes in your diet and don't know where to begin, these are the classes for you! Discover a variety of health-supportive foods in addition to the previous listings, such as sea-vegetables, fruits, oils, vegetables, natural sweeteners, and more. You'll find out why we use them and how to gradually incorporate them into your eating habits. We'll discuss the ABC's of menu planning, which foods to have on hand, and how to create nutritional balanced meals.

We will try to introduce you to an entirely new way of thinking about food, and give you the tools to help make some sense out of the many different types of dietary advice that you may hear or have heard. You will learn basic principles of nutrition and the science of creating balance.

Check Calendar Events for Time and Location of Weekly Classes Community Events as well as Cost and Dates Of ....Gourmet Cooking School!
THE EASTERWOOD BED AND BREAKFAST
RESERVATIONS BEST MADE IN ADVANCE TO SECURE YOUR ROOM(S)
There are five rooms available for B&B As Well As The Issues Of Life Guest Stay
One room has one full size bed and dresser, a closet, bathroom in room.
One room with twin size beds! This room has two closets, bathroom in outer hall use.
One room with queen size beds. This room has a very unique style bathroom and bath area! A Must See and Experience!
One room with king size bed, and could be used as an joining room if family needs to and it's available! This room will use hall bathroom! If decide to take both rooms, still priced as two seperate rooms!! The joining room is the one with the full size bed and inside shower mentioned above!
One small room with antique sleigh oversize twin bed. I call it the open breeze room! you'll see why when you check it out!!
Great view of the outside and access to Library/Lounge Upstairs, which is available to all who stay!
The Bathroom in the Hall Area mentioned Is off from the Library, And has the original bathroom cement floor and claw tub that was build in house in the late 1800's to 1900's!! What An Experience!!
Bed & Breakfast Cost: $175.00 per night. This includes Full Breakfast Service!! Now How Great Is That!! Personally Prepared By Chef Carlyn And Everything Is Freshly Made And Vegan!
Come Spend A Night With Us And Enjoy The Fresh Air, Good Food, And Historical Atmosphere!!
You Can Also Choose To Eat Lunch And Dinner At The Staff Of Life Cafe' Outside On Patio Or Inside Cafe Area! Enjoy Walking Around, Visiting The Fish Pond, The Flower Beds, And The Gazebo Or Just Hang Around Resting On The Hammocks, If You Have The Time! Either Way, You'll Have A Great Experience!
Phone: (256) 359-4386 for reservations or email us at karasdelight@gmail.com if you have any questions you want to ask!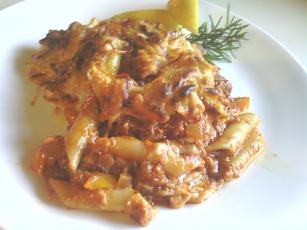 Vegan Pasta Dish
TEMPTING TOFU


Soybean
are perhaps the most potent ingredient we have in our arsenal of healing foods.

Recent studies show that compounds found exclusively in them (called isoflavones) can lower cholesterol levels, balance hormones, activate toxin-destroying enzymes and play a critical role in preventing many forms of cancer.

How can you take advantage of the unique properties of this wonderpod?

It's easy: just integrate it into your daily diet in its most versatile form, tofu.



Tofu is made by separating soy milk into curds and whey (a thin, clean, light-amber-colored liquid), pressing the curds together, cutting the resulting soy cheese into blocks and packing them into the whey or water.


Tofu is the most popular soy food in the United States today, with hundreds of producers.

It can be found in the produce section of most supermarkets as well as in natural food stores.

While tofu is usually sold fresh in Asian markets, you can also find it in dried, fried, fermented and aged forms.

The latter variety is more like an aged dairy cheese with a strong flavor.


The amount of whey pressed out of the soymilk curds during the tofu-making process is what ultimately determines its texture. Soft tofu (some-times called Japanese-style tofu) has a custardy consistency, which is great for making dips, dressings, custards, puddings or any dish with a soft texture. Firm tofu has a medium density and is the best type to use when making tofu salads, cheesecakes and scrambled tofu. Extra- firm tofu is dense, holds sliced or cubed shapes well and is ideal for cutlets and stir-fried dishes.

The market for ready-made tofu products is big, and it's only getting bigger. You can buy several different types of baked and marinated tofu or tofu that's been seasoned with Chinese five-spice powder or French herbs. These varieties can be eaten straight from the container or cooked with other ingredients. Tofu mayonnaise is a creamy condiment that spreads and tastes like egg mayonnaise but has 50 percent less fat. Tofu salad dressings are available as a more healthful alternative to creamy, dairy-based salad dressings.

If you're a "from-scratch" kind of cook, you will enjoy the above recipe that make excellent use of firm or extra-firm tofu. Soft tofu can also be used in this dish. The above dishe showcase its remarkable versatility.

Do you enjoy this site? Is it helping you learn more about Diet and Nutrition! Diet and Disease? If so, please feel free to help with the purchasing of supplies and the printing these recipes and also continue the productions of our Cookbooks as well as books on Diseases! Our cooking classes are also given on donation basis as well as free to those who cannot afford the cost, but their health is in dire need of our help!! Help me help others through the continuing of giving out recipes and dietary consultations by email to those who need it! God will richly reward your giving!!! Have A Blessed Day!! Remember...just click the donation button below and see God Bless!!
Note: This donation button is also used for the purchasing of our books on MM Publishing Page! Check out the books for sale!
Issues Of Life Bible School of Health/Staff Of Life Vegetarian Gourmet Cooking
copyright 1976,1998,2000, 2007,2010
Web Hosting powered by Network Solutions®